Welcome to multitracks library!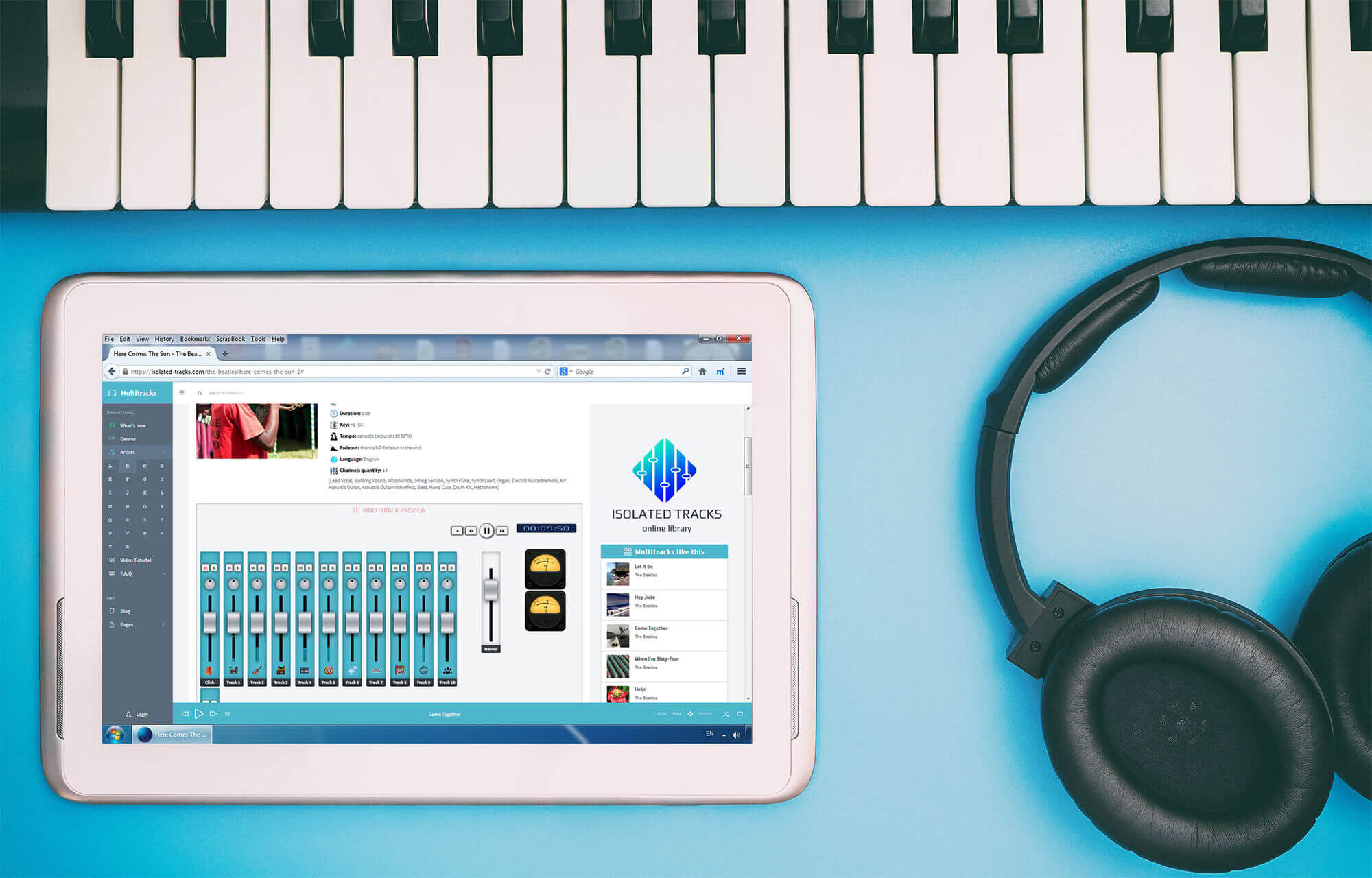 Customize Our Multitracks!
Every instrument in a multitrack is recorded on a separate channel and is saved in a separate physical file. You can change the sound not only of the full mix flexibly but of every instrument by itself, controlling such parameters as…
Volume
Panning
Equalization
Effects
Install our FREE application right now to get hot news from our media-channels and participate in all promo-actions!
Professional Multitracks
Wide repertoire
We provide multitracks in lots of different styles! We've collected all actual world repertory of XX and XXI centuries.
High quality
Our multitracks comply with the highest modern standards. An excellent record quality and a masterly performance of musicians!
It's the music that gained millions and millions of hearts! Songs of the most respected and talent performers loving by many listeners around the Globe!
It allows those, who don't have an own studio, an expensive equipment, and audio recording experience, getting backing tracks of a high quality without leaving a house. The sound of your mixes won't yield to works of great masters!
Work Effectively!
Simple Question...
How much time do you spend on one backing track?
Do you really like to do everything yourself? Is it worth it? So many good singers think of compressing or equalizing backtrack instead of paying more attention to voice or image overall! Or another example is when a talented musician, not having a perfect ear, listens to a difficult arrangement by trying to hear all nuances of his part without ready sheets instead of improving his skill! If you don't have assistants or money to hire them, you have to do everything yourself. As a result, you made all preparations; soundtracks are ready as well… But you don't have enough energy, time, and what is more important ‒ passion to share it with the audience, to light up their eyes with fire! One person can't cope with all issues especially when he's in a hurry! The simplest solution here is to take ready-to-use multitracks!
That's what we propose:
We offer high-quality MULTITRACKS recorded in a professional studio and something more significant and valuable... TIME! Time that you will spend on self-improvement, creative work, or just relax!
Customize Everything!
Create your own song versions! Amaze your listeners! With a multitrack, you get a big space for your creative work! From this moment, you can do anything you want with every instrument separately because it's saved in a separate file! The simplest thing you can do is to change a volume! Then EQ, compression, and an unlimited number of effects go. But technologies are so advanced today that a whole audio recording studio, which occupied a full floor 40-50 years ago and cost cosmic sums of money, is easily located in your PC today, in a box at $150! It's striking! Let's make use of it!
The epoch of mixing 'in a box' came! Tons of equipment are dumped or got dusty like rarity. Launch a host app, install a good set of plugins that emulate any hardware, and enjoy! You can apply all these amazing modern instruments to our multitracks in any order. There are no device or program limits. Everything is limited only by your fantasy and equipment volume! Naturally, you can even transfer channels of computer multitracks to the channels of your analogue mixer.
Work like a real producer! Opening a multitrack, you as if come to a studio, take a working project, and manage what should be changed like a real producer! Suppose that you're a guitarist, but there's no solo in a song and you want to add it so much. It's not a problem if you have a multitrack. We take and copy a verse or a refrain, remove vocal and guitar parts. Now you can solo! But there's no need to record a solo! Save an empty mix and improvise your solo on the concert! It's easy! Let's imagine that you dispose a team of experienced musicians that have already performed their parts. A soundtrack already seems appealing, stylish, and rhythmical. But until this mix is saved, we still can change something in it.
It's hard to make a good mix from bad originals. It's not in vain when people say that mastering is to remove disadvantages of rerecording while rerecording itself means to remove disadvantages of the record. Our multitracks are performed by experienced musicians in a professional audio recording studio. Tracks are already rerecorded and need mastering; they have a clear and well-balanced sound. If you damage a good mix occasionally, you will feel the difference in a moment. It's easy to work on our originals – just trust your ears!
Open multitracks on any device! Our multitracks are stored in a universal and available format and open on any device! You will use just those programs or devices you already know. You need time to become familiar with a new technology – to study sofware and hardware. Sometimes you have to pay money to buy something but sometimes you should collect them. Let's make it simpler! A universal format gives an opportunity to work on devices you got used to! It might be a PC or Mac, Cubase or Pro Tools, it might be Workstation (Korg, Roland, etc) or modern digital mixing console (like Allen&Heath QU-Series)!
There's no need to master new equipment and software. Make mixes like you used to do and where you used to do! You may have any, even the most elementary, sound card integrated into a motherboard of your PC! Probably, you will be amazed, but even your mobile phone is able to edit multitracks! You can edit multitracks, having neither a laptop nor a computer! Mp3 and WAV formats are opened everywhere and can be easily converted into exotic formats if needed. If you have never worked on multitracks, watch this 2-minute video and everything will be easy to understand!
In Different Styles!
All begins from music. From good music! We comprehend it! That's why we respect ALL KINDS of music. In our library you will find stems of songs are in absolutely different styles and epochs! Starting with retro jazz (only your grandmother remembers them if she still remembers something), rock-n-roll (Elvis), and a fiery rock from its conception (Deep Purple/Black Sabbath/Led Zeppelin), and ending with such modern bands like Muse. Hits of the epoch of Disco conception and prosperity, and, of course, such an extensive style as POP!. Lovers of musicals, Latin and country styles (there're a lot of them now) will also be satisfied! In other words, music fits every taste! You will easily find stems desired in our catalog – all compositions are sorted out by authors and styles.
What is your style?